---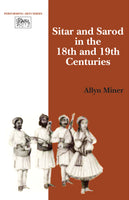 Sale
The music of North India has attained its world renown largely through its two most prominent stringed instruments, the Sitar and the Sarod. Yet their story has until now remained hidden in the oral traditions of professional family lines, and in largely inaccessible 19th-century books. This work brings together for the first time material from written, oral, and pictorial sources to trace the early history of the instruments, their innovators, and their music.
About the Author:
Allyn Miner first came to India from the U.S. on the University of Wisconsin Year in India Program in 1971, and began performance study on the sitar with Thakur Raj Bhan Singh of Varanasi. She received grants from the Fulbright Foundation and the J.D. Rockefeller III Found to continue graduate studies in sitar performance and musicology. She received a Ph.D. from the Department of Musicology, Banaras Hindu University, under the guidance of Professor Prem Lata Sharma, in 1982. Sitar and Sarod in the 18th and 19th Centuries is based on her Ph.D, dissertation.
She began advanced performance studies in Sitar with Ustad Ali Akbar Khan in 1985, and became his formal disciple in 1991. She is Lecturer in Indian Music in the Department of South Asia Regional Studies, University of Pennsylvania, Philadelphia, U.S.A.