---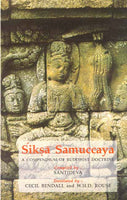 This is the first Indian edition of the English translation of Siksasamuccaya- a Mahayana Buddhist treatise edited by Dr. Bendall from a single Nepalese manuscript for the Russian Bibliotheca Buddhica.
The book is a compendium of Buddhist doctrine preserved in the schools of the great Vehicle-Mahayana. It presents as its subject matter the code of righteous conduct for the enlightenment of the aspirant.
The translation is authentic and authoritative. The book is interesting and instructive. There is also an alphabetical index of quoted works and a general index.
Review(s)
About the Author(s)