---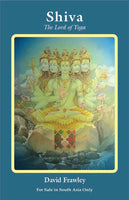 About the Book:
Lord Shiva is the personification of all the main practices of Yoga, as the origin and ruling power over asana, prana, mantra, inner seeing and meditation. He is the ultimate Yoga guru reflecting the highest Self-awareness. Yet this centrality of Shiva in Yoga is rarely understood and utilized. The current book unfolds the presence, light, energy and consciousness of the Supreme Shiva to take us beyond all death and duality.
Dr. David Frawley (Pandit Vamadeva Shastri), is one of the most respected modern teachers of the deeper secrets of Yoga and the Vedas, an author of more than forty books in twenty languages worldwide. He has received the prestigious Padma Bhushan award from the government of India for his outstanding work in the Vedic field.
About the Author:
Acharya David Frawley (Pandit Vamadeva Shastri) is a world renowned teacher of Yoga, Ayurveda, Vedic astrology and Veda and the author of numerous definitive texts in these fields over the past thirty years. He follows the yogic approach of Ganapati Muni, the chief disciple of the great Advaitic guru Ramana Maharshi.
Reviews:
Vamadeva Shastri has been a spiritual guide and mentor of mine for several decades. For anyone who is serious about their journey to higher divine consciousness, this book is yet another jewel from him. I'm immensely grateful that he is in our lives. –Dr. Deepak Chopra
For someone like me, who is a devout Shiva worshipper, this book is a treasure. But even for those who may not be Shiva devotees this book is a path to wisdom. Dr. Frawley has conveyed the intricate philosophies of Lord Shiva through language that is simple and beautiful. "Shiva: The Lord of Yoga" is wonderful book of insight. I strongly recommend that you read it. –Amish Tripathi, best-selling author of the Shiva Trilogy
Reading through the book, I was reminded that in every cycle of the universe an incarnation of Vyasa will write the inner aspect of the scriptures and Vamadeva, who has a direct experience of the subtle realities, is such an incarnation of Vyasa. –Prof. Lokesh Chandra
Sri Vamadeva Shastri (Dr. David Frawley) is no mere academic or intellectual researcher. His present book on Lord Shiva that has flowed from his pen is an in-depth work of both erudition and insight, reflecting many years of both study and meditative experience. –Sri Sadguru Sivananda Murty
Vamadeva reflects the living reality of Shiva that pervades all of nature and fills all life with mystery, wonder and awe. He brings us all into the presence of Shiva. –Yogini Shambhavi Devi, author Yogic Secrets of the Dark Goddess