---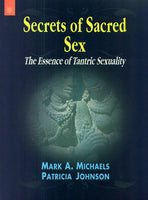 About the Book: 
This modern and comprehensive guide to Tantra celebrates the sacredness of desire and the human body. Much more than an erotic sex manual, Secrets of Sacred Sex explains the Hindu Tantric tradition, its philosophy, and its principles. The authors, a devoted married couple, demystify Tantra in ways that make this ancient tradition accessible to beginners, offering authentic exercises and techniques that will help turn your every moment of pleasure into an opportunity to experience the divine.
Review: 
"At last! A book that presents authentic Hindu Tantra in a delightfully accessible format. Secrets of Sacred Sex is a must-read for everyone just beginning to explore Tantra and an invaluable, nuanced resource for more experienced practitioners. This is a truly liberating book."
About the Author's: 
MARK A. MICHAELS and PATRICIA JOHNSON (New York) are a devoted married couple who have been teaching Tantra and Kriya Yoga together since 1999. The two are senior students of Dr. John Mumford (Swami Anandakapila Saraswati), who has named them his lineage holders for the Americas and Europe. They have been featured in national magazines, on regional television and radio programs, and in alternative newspapers. Michaels is a graduate of NYU school of Law, holds master's degrees from NYU and Yale, and is a member of the New York State Bar. Johnson is professional operatic soprano.