---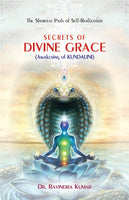 About the Book:
The mysteries of Kundalini revealed! We all possess the powerful evolutionary force of Kundalini that can open us to genius states, psychic powers, and cosmic consciousness. As the energies of the Aquarian Age intensify, more and more people are experiencing the "big release" spontaneously but have been ill-equipped to channel its force in a productive manner. This book shows you how to release Kundalini gradually and safely, and is your guide to sating the strange, new appetites which result when life-in-process "blows open" your body's many energy centers.
The section on chakras brings new understanding to these "dials" on our life machine (body). It is the most comprehensive information available for cleansing and developing the chakras and their energies. Read Kundalini and the Chakras and prepare to make a quantum leap in your spiritual growth!
About the Author:
Ravindra Kumar has been having experiences with the inner Light and Sound the twin pillars of God1987, when his Kundalini awakened. A Ph.D. in mathematics, he resigned his position as a professor in 1994, after thirty years of service in nine countries. He now holds workshops to share his knowledge of "Higher Realms" and the "Integral Path," which he claims to be the "Shortest Path to God." Ravindra is a trustee of the Academy of Religion and Psychical Research, U.S.A., and founder/president of the Academy of Kundalini-Yoga and Quantum Soul with Centers in New Delhi, Copenhagen, and Florida.
He has been experiencing death and out-of-body travels after the awakening of Kundalini. These experiences of life after death have been written by him in more than fifteen papers published in the academy journal. He has successfully initiated a good number of practitioners into Kundalini Yoga, who have been enjoying oneness with God Almighty.