---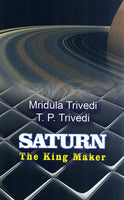 The book unravels the king maker role of Saturn in addition to Saturn's significance in timing various vital events of life. This is an unparalled work on the mystiques of Saturn, containing 14 chapters. First two chapters deal with the introduction of Saturn as a member of the solar system and its astrological connotation. Next two chapters describe in details Saturn's placement in twelve houses and twelve signs. Introducing various dimensions of different houses of birth chart it proceeds discussing the appropriate result of Saturn's position in different bhavas at the time of birth. The fifth chapter unravels the different position of mysterious Saturn, Saturn in ascendant and retrograde profiles, as well as brief discussion on the position of Saturn in 12 houses. Next three chapters deal broadly with the transit of Saturn. The chapter on 'Saturn: The King Maker' deals with crux of the theme, the amazing role of Saturn in elevating one to the position of a king, minister, head of the state or of the industries. last four chapters shed light on the relationship of Saturn with other planets such as sun and Jupiter which play an important role in deciding events related to marriage, progeny and profession. Thus, the book demystifies the commonly held view about Saturn's enigmatic character and describe at length its constructive role in molding the basic pattern of life. It is a must read to gain comprehensive knowledge about Saturn and to remove the myths about its malfeasance.
About the Author(s)
Mrs. (Late) Mridula Trivedi, a Post Graduate from the University of Lucknow, was an aclaimed astrologer of international renown. She was honoured with 'Docter of Astrology' by the World Development Council in 1987, and the title of Ved Vyas' by Spiritual and Astrological Research Institute, Lucknow in 2001. She was also awarded 'The best Astrologer and Best Writer of the Country' by Planets and Forecast in 2007. She was associated with a number of journals and magazines as Consultant Editors.
Mr. T.P. Trivedi, a retired engineer with U.P Power Corporation Ltd., has dedicated his life to the promotion of excellence in astrology. Awards like 'Best Astrologer of India Awards', 'Dr. Manorama Sharma Jyotish Puraskar by Gopal Das Neeraj Foundation are just two stray examples from a rather long list of awards bestowed on him. Based on his lifetime achievements, he has also been honoured with the most prestigious award of Uttar Pradesh, Yash Bharati in 2015.