---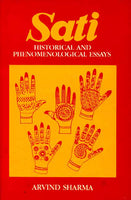 The phenomenon of Sati, on account of its dramatic and tragic element, has
always commanded considerable attention. This has not always been
complemented by adequate analysis. Even when the treatment of the subject
has transcended sensationalism, it has not always been sufficiently
nuanced. This book hopes to remedy this situation by bringing to bear on
the topic (whose relevance the recent recurrences of the phenomena have
highlighted) a measure of methodological sophistication which was not
possible prior to the emergence of the History of Religions as a
discipline.
Review(s)
On the whole, the book is a welcome addition to surveys in social history
of India. The essayists have succeeded in provoking future scholars to
probe further the causes of the burning of widows and evaluate the
suggestions of P.V. Kane and Marshman
About the Author(s)
Arvind Sharma is Birks Professor of comparative Religious at Mcgill University, Montreal, Canada. He is the author of numerous books including The Philosophy of Religion: A Buddhist perspective 1995 and classical hindu thought An Introduction 2000.