---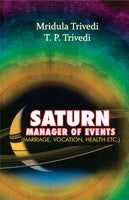 The book will enlighten the readers about the oft-misunderstood planet Saturn in it is entirety. The book is divided into 8 informative chapters. The first chapter highlights the cosmic significance of Saturn and parents the necessary background in terms of myths and facts related to this enigmatic planet. The second chapter is exclusively devoted to the most frightening curse and adverse period of seven and half years where formula to determine the onset and span of Sadhe Sati is explained with examples. Next chapter deals with the Saturn's period and direction where in consequences of Saturn's stay in 12 signs and special effects of sub period as well as 12 lesser known states of Saturn are discussed. The fifth chapter centers around Saturn in the 7th house and different planetary positions. Chapter six analyzes the possible occupation of the individual in relation with Saturn's placement in the bitch chart which would serve as a guide to the natives in choosing a proper vocation in harmony with what planets have in store for him. The quintessential section of this book is the last chapter explaining all about diseases caused due to ill placed Saturn. All the preventive measures, mantras, stotras, etc. are quite effective, tested and have benefitted large number of natives. The book, thus will be a great help for persons afflicted with Saturn in any way or suffering the adversity of Sadhe Sati of shani by offering them a number of remedies to choose from according to their needs. 
About the Author(s)
Mrs. (Late) Mridula Trivedi, a Post Graduate from the University of Lucknow, was an aclaimed astrologer of international renown. She was honoured with 'Docter of Astrology' by the World Development Council in 1987, and the title of Ved Vyas' by Spiritual and Astrological Research Institute, Lucknow in 2001. She was also awarded 'The best Astrologer and Best Writer of the Country' by Planets and Forecast in 2007. She was associated with a number of journals and magazines as Consultant Editors.
Mr. T.P. Trivedi, a retired engineer with U.P Power Corporation Ltd., has dedicated his life to the promotion of excellence in astrology. Awards like 'Best Astrologer of India Awards', 'Dr. Manorama Sharma Jyotish Puraskar by Gopal Das Neeraj Foundation are just two stray examples from a rather long list of awards bestowed on him. Based on his lifetime achievements, he has also been honoured with the most prestigious award of Uttar Pradesh, Yash Bharati in 2015.