---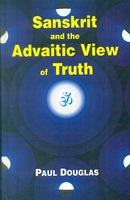 The aim in this book is to explore what relationship there may be between language
and truth. That deceptively simple word 'truth', can be understood in various ways, but for the purpose of this book, it is taken as understood in the philosophy of advaita (non-dualism.
More particularly, a good part of the book discusses ways in which one language, Sanskrit,
can be seen as embodying the principles of advaita.
In the last century Western philosophers have treated the subject of language and truth on the basis that either truth is uncertain and language is incapable of expressing it, or that the philosopher's task is simply to show how language can express meaning clearly and unequivocally.
This book takes a radically different approach, based on the view of truth expressed in Advaita philosophy, a philosophy which is increasingly of interest in the West because it answers many of the questions not answered by Western philosophy.
Language and truth are intimately connected in Advaita. One reason for this is the Sanskrit language, because the sound and structure of the language, because the sound and structure of the language itself appear to reflect and convey that truth.
The author also explores these connections in other languages, and in the meaning of meaning. The book is written in a way that can be understood by the general reader.
Review(s)
About the Author(s)
Paul Douglas has had an enduring interest in Advaita philosophy and the Sanskrit language for much of his life, having taken up the practice of Advaita in 1960s and the study of Sanskrit in the 1970s. He has taught both subjects for many years in the School of Economic Science in London and has written a three year course for the School's students of Sanskrit both in the UK and abroad.
His special interest has been the comprehensive grammar of Sanskrit as described by the famous grammarian Panini over 2000 years ago.