---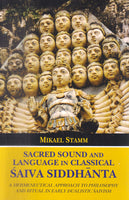 Sale
This book explores the implications of the philosophy and theory of language as propounded in the Indian dualist Saiva Siddhanta philosophy. This ancient Siva-tradition is described evolving from its original roots through its early development to its fully established from, which laid the foundation of today's Tamil Saiva philosophy.
The author focuses on the translation of Nadakarika by Kashmiri Bhatta Ramakantha, which formulated a theory of sound, speech and meaning. This is explained and highlighted through a discussion of three opposing Indian traditions: The ritualistic Mimamsa, the logicians of the Nyayatradition, and the idealistic school of the grammarian Bhartrhari. The text is analyzed and interpreted as an important contribution to the role and nature of speech in relation to its hidden source, the true self and the outer world. 
It is the author's intention to show that the tradition of dualist Saiva Siddhanta implies a view on language as a manifestation of an excess of cosmic expressiveness, which the author further connects to the crucial initiation ritual, the diksa, which shows the theory of nada ( subtle sound ) in action through the application of holy mantras. Thus, in the final interpretative part, the path of liberation is seen as an event in a field in which speech manifests, rooted in both ignorance and divine visions. This is related to the later Heidegger's view on art, through which the possibility of the ( re ) appearing of gods is given. 
About the Author:
MIKAEL STAMM is born in Denmark 1957, has completed his BA in philosophy at University of Copenhagen, further an MA-degree in Indian philosophy at University of Madras, continued as Ph.d. student at Department of sanskrit, and completed at Assumption University in Bangkok. His connection to University of madras and the French Institute in Pondicherry further motivated his research in the South Indian Saiva Siddhanta and its philosophical foundation in the earlier dualistic Saivism, which is the subject of this study.