---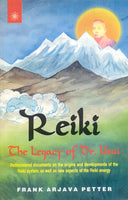 Reiki has developed into a spiritual healing method that is well-known and highly valued througout the world-inseparably connected with its founder Mikao Usui.
Tradition and myth have combined into the story of Dr. Usui's life- and many questions about it have remained open. Reiki Master Frank Arjava Petter, who lives in Japan, has now discovered documents that reproduce Dr. Usui's original words. Questions that Dr. Usui answered provide information
about his own very personal view of the teaching and are supplemented by materials used as the basis for his student's studies. In addition, Frank A. Petter includes insights on various topics and themes from the perspective of an independent Reiki Master.
About the Author:
FRANK ARJAVA PETTER strives to perceive, shape, and heal inner qualities in
the outer world. At the beginning of 1993, he brought Reiki back to the
land of its origin and started teaching the Reiki Master/ Teacher Degree
for the the first time in Japan. He currently teaches various healing
therapies and methods of meditation.