---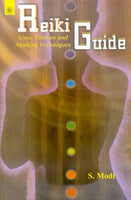 Reiki literally means universal energy. This energy is all around us the only thing is we do not know how to use it.
Now you can use this energy for healing yourself and others aroung you at all levels-mentally, physically and spiritually. This energy not only heals but also helps in enlightening a person who is touched by it.
Reiki Guide: Usui Tibetan and Modern Techniques is a valuable resource in our quest to understand this energy and transform your life.
Learn:
Reiki history and symbols.
How to heal past traumas.
Reiki Programming methods using Reiki Box & Crystal Grid.
Money Multiplier Grid for a prosperous life.
Various meditation techniques for your spiritual path.
Review(s)
About the Author(s)