---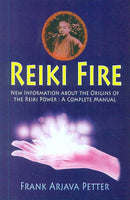 Throughout history, humankind has often turned to spirituality in times of distress. Now, on the brink of totally destroying this beautiful playground, many people are turning to higher agencies for guidance, and some are turning inwards. There are many ways to aim the arrow of awareness towards your own center, and Reiki is just one of them.
The origin of Reiki has come to be surrounded by many stories and myths. Frank Arjava Petter, a free Reiki master practising in Japan, immerses it in a new light as he traces Usui-san's path back through time with openness and devotion. He meets Usui's descendants and climbs the holy mountain of his enlightenment.
In addition, Reiki Fire is an excellent Reiki textbook, fresh and rousing in its spiritual perspective Reiki, shaped by Shintoism, is a Buddhist expression of Qigong, whereby Qigong depicts the teaching of life energy in its original sense. Frank Arjava Petter is a master in his approach to it.
Reiki Fire is also an absolutely practical Reiki guide. The heart, the body, the mind, and the esoteric background, it is all here.
Review(s)
"Frank Arjava Petter knows how to write in an absorbing, sensitive, and exciting way. On every page you will find his devotion to Reiki and his great experience on the spiritual path...one of the best books dealing with this subject." - Walter Lubeck, Reiki Master and Bestselling author.
About the Author(s)
FRANK ARJAVA PETTER strives to perceive, shape, and heal inner qualities in
the outer world. At the beginning of 1993, he brought Reiki back to the
land of its origin and started teaching the Reiki Master/ Teacher Degree
for the the first time in Japan. He currently teaches various healing
therapies and methods of meditation.