---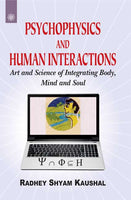 Psychophysics and Human Interactions Keeping in mind the growing psychic problems in younger generation and the deteriorating human values in society, the present book is planned for a person who has some interest in scientific thinking. For this purpose, after having lessons from various modern physical theories, the wisdom of Vedic Science in general and the Science of the Self in society. As how the understanding of dynamics of the essences of life of an individual becomes an asset in his/her character building and personality development, is the main theme of this book. The book is written in a textbook style. As a matter of fact, the easy availability of such an introductory book on human behavior would accelerate the process of inclusion of psychophysics or an allied course on value education at graduate/ undergraduate level.
Review(s)
"This book has a great deal of wisdom packed into it. It provides a comprehensive world-view that should be useful guide to life compatible with science and many other sources of understanding." - Prof. Henry P. Stapp, LBNL, Berkeley, USA
About the Author(s)
Radhey Shyam Kaushal, M.Sc. (Phys., AMU), Ph.D. (Phys., IIT/K) and Ph.D. (Phil., DU), is presently working as Guest Faculty in the Department of Physics and Astrophysics, University of Delhi, after superannuation in 2009. The author of four books and the co-author of a fifth, Dr. Kaushal has published more than 100 research papers in the fields of theoretical nuclear and particle physics, classical and quantum mechanics, dynamical systems and in philosophy of science.