---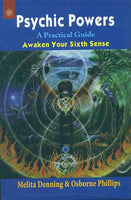 A comprehensive guide for awakening non physical perception...learn to move objects without physically touching them, see into the future, know another's thoughts, read the past of an object or person, and find water or mineral wealth by dowsing.
Review(s)
World-famous experts Denning and Phillips explain exactly what you need to develop your own innate abilities, including advice on diet, rest, and exercise. They advise you to meditate daily, and give instructions how you can bring this wonderful skill in
About the Author(s)
Melita Denning is internationally recognized authorities on the mainstream Western Mysteries and the foremost living exponents of the Ogdoadic Tradition, that premier hermetic school whose keywords are knowledge and regeneration. Melita Denning passed over in 1996.