---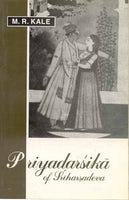 The Priyadarsika is a romantic comedy in four acts and is named after the heroine, the daughter of Drdhavarman, King of Anga.
The plot of Priyadarsika is derived from the semi-legendary life of king Udayana as given in the Brhatkatha of Gunadhya. The story of the loves of Udayana also known as Vatsaraja, and of his romantic adventures seems to have been exceedingly popular in ancient India as is evident from the references to it by many sanskrit poets.
It contains an exhaustive introduction, a short but sufficiently explanatory commentary in sanskrit various readings, a literal english translation, copious notes and useful appendices.
Review(s)
About the Author(s)