---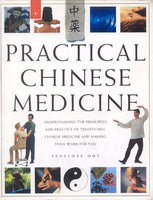 Take a holistic approach to your health and discover the ancient art of
Chinese medicine which is effective even today. Chinese medicine aims to
cure diseases by focussing on the person and cause, and identifying a range
of highly detailed syndromes with specific treatment programmes.
It will help you to discover the key to total health and heal yourself and
your family of a wide range of common ailments: from allergies to insomnia
making you aware with Chinese diagnostic techniques.
Some salient features:
* Take a look at the fascinating methods of Chinese diagnosis techniques.
* Learn in-depth about the main therapies.
* Discover herbalism, the foundation of traditional chinese medicine.
* Follow the simple diagrams to learn how to use acupressure to relieve a
wide range of ailments.
* Use food as medicine to balance yin and yang within the body.
* Review Chinese therapeutic techniques and how to practice various massage
techniques.
* Practise the ancient healing methods of Qigong and Tai-chi.
Review(s)
"The emotions ofjoy and anger are injurious to the spirit. Cold and heat
are injurious to the body. Violent anger is hurtful to yin; violent joy is
hurtful to yang. When rebellious emotions rise to heaven, the pulse expires
and leaves the body. When
About the Author(s)