---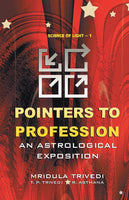 'Pointers to Profession : An Astrological Exposition' is one of the most exhaustive and comprehensive works, among the books available so far, on the judgement of suitable occupation of the native. One of the important queries to an astrologer is about the profession and professional prospects of the native or his children. Absence of any authentic book, which covers all aspects of profession led to the creation of this exhaustive work related to profession, covering its every aspect, as far as possible, on the basis of authors' research based studies for the last many decades, supported by the abstracts from all the classical works.
'Pointers to Profession' will certainly make the students, readers and scholars of astrology proficient in finding out the appropriate vocation of the native. Judgement of profession is indeed a tough exercise, which requires a vast experience and systematic analysis of all the house and planetary setup of the birth chart, in addition to multifaceted study of the combinations of various vocations. This is not only the 10th house is the most important house for the judgement of future prospects of profession. Planets owning and placed in the 10th house are the important significators for the right profession one is likely to go in. Similarly, the 2nd, 11th and 9th houses are of no less consequence in the examination of the occupation of the native. What roles do the navamsa, constellation and Atmakaraka planet play in deciphering the prospects of profession has been vividly explained. Whether it will be a government job or a private enterprise? The question of service or business is suitable or profitable to the native has also been explained in detail, with the help of a number of illustrations.
Secrets of the role of Saturn on one's occupation have also been included in this work. How does Saturn's transit help in timing the events has also been  explained and illustrated. Evil effects of Saadhe Sati of Saturn and certain other specific observations about the influence of Saturn add to the usefulness of this book.
This book has been divided in 19 chapters covering almost all aspects of profession and prosperity etc. This is a unique and most useful work on the aspect of occupation.
The most significant and utilitarian part of this work is the inclusion of about 123 practical illusions with lucid analysis to show how to ferret out the precise results. Astute and discerning readers, as well as scholars and students of astrology, will undoubtedly find 'Pointers to Profession : An Astrological Exposition' the most informative and enlightening dissertation on the subject of profession, so far.
About the Author(s)
Mrs. Mridula Trivedi, a Post Graduate from the University of Lucknow, was an a claimed astrologer of international renown. She was honoured with 'Docter of Astrology' by the World Development Council in 1987, and the title of Ved Vyas' by Spiritual and Astrological Research Institute, Lucknow in 2001. She was also awarded 'The best Astrologer and Best Writer of the Country' by Planets and Forecast in 2007. She was associated with a number of journals and magazines as Consultant Editors.
    Mrs. mridula Trivedi is wife of Mr. T.P. Trivedi, a renowned astrologer and the recipient of Yash Bharati honour for his lifetime contribution to the field of Indian culture through his colossal and authentic creativity in the field of astrology. She is not a women to hide behind the stupendous success of her husband and fellow professional in astrology by just being the proverbial 'woman behind the success of her own, who is frequently referred to by her husband as perennial source of inspiration. This two-way flow of inspiration in the life of this couple and duo scholars is the breading ground of many path-breaking research studies in the field of astrology.
    Mrs. Mridula Trivedi is an author of more than a hundred books in both Hindi and English. she has been writing on issues related to Dasha system and a popular consultant on matters related to timing of decisions be they familial or financial.
    Mr. T.P. Trivedi, Starting his career as a student of science then becoming and engineer with U.P. Power corporation Ltd. was a linear march for Mr. T.P. Trivedi. But from the position of skepticison towards astrology to becoming a doyen in the domain of astrology was a quantum jump. His life thereafter became a saga of a researcher in astrology. The quest of knowing more and sharing the knowledge with people with a view to helping them to understand the ways of the fate was the inspiration behind writing more than 100 books in both Hindi & Endlish on Astrology as also dozens of research articles. Through his life long efforts spanning more than four decades he has made it crystal clear that astrology is a scientific pursuit. 
    He has been honoured by several fora devoted to the promotion of excellence in this human science called astrology. Awards like 'Best Astrologer of India Award', 'Dr. Manorama Sharma Jyotish Puraskar' by Gopal Das Neeraj Foundation are just two stray examples from a rather long list of awards.
Based on his lifetime achievements, he was honoured with the most prestigious award of Uttar Pradesh Yash Bharati in 2015.
    Mr. T.P. Trivedi is a builder of Bridges between spiritually (Adhyatma) and astrology (Jyotish) on the one hand and medical science and astrology on the other. His writings have proved to be solace to many of his readers in helping them take appropriate decision as also in preventing or overcoming fatal diseases and brought happiness to them. Mr. T.P. Trivedi is very much a household name amongst seekers of advice on matters related to marriage and children, choice of occupation, financial investment and business decisions. 
    Dr. Rakesh Asthana, Medico by Profession, Dr. Rakesh Asthana is a senior officer in Government of India. He picked up astrology as a pastime, more than two decades back, because of his interest in medical astrology. For him, what began as a mere hobby developed into a serious passion when he began to appreciate great predictive nature of astrology. After his busy professional schedules, he nurtured his ardor for astrology in alliance with Trivedis and has been associated with and assisted them in several of their works. He has been co-author of a book in English titled 'An Insight into Kuja Dosha' and has been working on several other works with Trivedis, to be published shortly. As a student of science, he takes up the subject with an inquisitive mind and believes that genuine and sincere research can unravel many mysteries, which this great science has in its womb.