---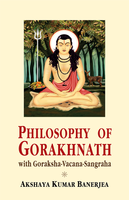 Sale
This volume contains the essence of the writings and teachings of Mahayogi Gorakhnath. It is well pointed out that while the ultimate object of search is the same for a Yogi and a philosopher, their modes of approach are different, the latterês being intellectual and the formerês intuitive and spiritual. The task of a Yogi does not require any subtle intellectual speculation or the framing of hypotheses and theories. The quest of the Yogi is direct spiritual experience of truth on a high plane of consciousness. The highest state of Samadhi attained by the Yogi is neither purely subjective nor objective. It transcends both categories and it is really an integrated experience beyond formal description. Such a transcendent state of consciousness is alone called Samadhi.
This book analyses in detail the nature of Samadhi Experience. The term –Experience" is perhaps inaccurate, because in this state of Samadhi, there is no relation between subject and object, the experiencer and the experienced. It is the fulfilment of life as described in the Yogasutras. The Yogi who comes back from Samadhi may not have attained Kaivalya or Moksha, but he is illuminated by his experience. If he assumes the role of a teacher or preacher, he gives expression to his experience in such forms as may be easily intelligible to the people at large. Gorakhnath was a Maha-Yogi.
The cult of the Kanphata Yogis is a definite unite within Hinduism, and its study is essential for understanding this phase of the religious life of India. the book is divided into three sections. The first two sections comprising chapters 1 - 13 deal with the cult and history of this sec. the third section containing chapters 14 - 16 opens with the Sanskrit Text Goraksastaka and its English rendering and annotations. The book is fully documented. It has a preface, Glossary, Bibliography, Plates and General Index. This book is an attempt to present a systematic and consistent account of the philosophical background of the spiritual culture associated with the names of Yogi Gorakhnath and other adepts of the natha school.
Review(s)
About the Author(s)