---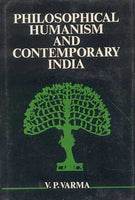 An attempt has been made in this book to reconstruct idealist humanist philosophy on the basis of Eastern and Western metaphysics and the natural sciences. It supports the basic principle of ethical absolutism as opposed to relativism. It analyses the fundamental principles of humanist politicial thought with reference to sovereignty, obligation and rights.
It also lays down a detailed manifesto for the reform of the Indian political, administrative, social and economic systems. The manifesto provides an alternative to capitalism and communism and wants to reform Gandhism in a more radical direction. With profound philosophical perspective, the book combines an earnest attempt to analyse and solve the dominant problems to the day.
It is hoped that policy-makers and planners in the developing countries will find here an integral world-view and an exposition of concrete techniques to meet the challenges of the hour. It is the first serious attempt by a internationally recognized political philosopher to build a systematic theory by the pursuit of the multi-disciplinary approach.
The substance of the contents of this book was delivered as the first series of the Deendayal Memorial Lectures on –Integral Humanism and Modern Indian Thought."
Review(s)
About the Author(s)