---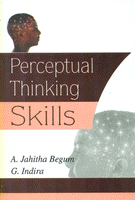 Perception plays an important role in learning. In a classroom, students from different settings assemble towards a common goal- that is learning a particular concept. Due to the varied perception level of the students, a teacher can not realize his teaching learning objectives. Hence, it is essential to have an outlook, a thorough understanding of this important cognitive skill called perception. The motives and erosions of an individual also influence the perception to a great extent. The present book contains eleven chapters - Concept of Perception. Various views of perception, Sensation, Motivation and Perception, Theories of Perception, Factors and approaches of perception, Brain and Perception, Attention and Perception , Visual Perception, Integrated Visual Learning, Perceptive, Thinking Skills and Research and Perceptive Thinking Skills. Therefore this book is of great importance and useful to the students, teachers and teacher educators and specially to all those who involved in teaching profession. It also explains the scientific aspects of perceptive thinking skills.
About the Author(s)
Dr. A. Jahitha Begum is presently working as Associate Professor & Head of Department of Education,Gandhigram Rural University, Dindigal Dt. Tamil Nadu, India. She got educational qualification such as M.A. (Eng) M. A. ( Pol. science) ; M. Ed.; M. Phil; PGDCA ; Praveen in Hindi; Dip. in Urdu : Ph.D. (Education). She got rich teaching experience of 20 years in kendriya vidyalayas, DIETs and Universities. She was head Incharge of the Education Department in periyar University, salem from September 2006 to October, 2008. She is the recipient of NCERT National Award 2002 and 2003 ( Two Times) for Innovative Practices in English Teaching. She received Prof. Uma Nag Lecture Award in  2007 from Psycholinguistic Association of India, Agra; Hindi Manasvi Award in 2008 from Indore and Air India BOLT District Award; Prof. K. Sivadasan Pillai Memorial Lecture Award 2008, Council of teacher Education, Bhopal; Certificate of Appreciation in 2008 from AKhil Bharathi Vaicharik Kranthi Manch, Lucknow; Anand Award of Best Researcher, 2009 IPERA, Agra; Hindi Manasvi  Award 2009, Hindi Sahithya Sabha, Agra; and Prerak Vyaktitva Award 2009, K. M. Shanthi Foundation< Agra., Dr. Varalakshmi Eminent Psychologist Award 2010, Dr. Mohan Best Teacher Ward 2011, IPERA Sudershan Rakheja Memorial Award for Best Woman Educationist 2011.
She has published about 9 books and 75 articles in the National Journals and articles in the International Conference and 10 International Conferences and delivered more than 50 guest lectures as national level and stage level resource person. Eight Ph. D. Scholars and Fifteen M.Phil Scholars were awarded under her guidance. She has Undertaken 4 major research Projects from NCERT. UGC, ICSSR, and Madurai Kumaraj University.
  Mrs. G. Indra is presently working in the Pre service Department Lecture in Geography DIET - Utthamasolapuram  Salem, Tamilnadu, India. She is M.A  (Geo); M.A  (His) ; M. Sc.  (Applied Psychology)  M.Ed. ; M.Phil ; Ph. D. ( Education). She started her career as a Teacher in H.N.U.P.R. Matric Higher Secondary School, Dindukkal Dt., Tamilnadu, after her Post graduation. She got eleven years of experience and worked as a Programme  Co  - ordinator of Center for Enterpreuner Development under Madurai - Kamaraj University in Madurai. She served as Teacher Educator in social Science Education and Psychology for DIET Teacher Trainees. As a Social Science teacher she succeeded in making the teacher trainees to draw maps  and Atlas reading in Geography. She acted as a State level and District Level Resource person for a number of training programmes for tae  Teachers conducted by DTERT, Chennai. She prepared more then five modules for the practicing teachers and conducted 12 action researches in the field of all subjects and psychology.She has published about 13 articles in the National Journals. She has presented Papers in 10 International Conferences, 15 National Seminars, 10 Regional Conferences, 17 State level Seminars, 15 Inter DIET Seminars and 6 District level Seminars, and also Scottish Educational Research Association Conference Conference (SERA) presenting her paper.