---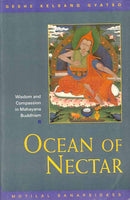 Ocean of Nectar is first complete commentary in English to Chandrakirti's classic Guide to the Middle Way, one of the most important scriptures in Mahayan Buddhism and regsrded to this day as the principal text on emptiness, the ultimate nature of reality. In this long-awaited major work Geshe kelsang provides an entirely new translation of Chandrakirti's verse masterpiece and explains with outstanding clarity the philosophical reasoning establishing Budda's most profound view of the middle way.
Review(s)
"Undoubt, this learned work coming as it does from so eminent an authority constitutes an important and valuable contribution to the study of Mahayana Buddhism...Gyatso has rendered a great service to the cause of Buddhist philosophy." --Vedanta Kesari
About the Author(s)
GESHE KELSANG GYATSO, a fully accomplished meditation master and internationally renowed teacher of Buddhism, is the author of a series of highly acclaimed books that transmit perfectly the ancient wisdom of Buddhism to our contemporary life. He has also founded many Buddhist Centres throughout the World.