---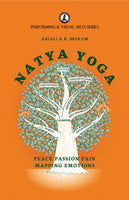 About the Book:
This book brings to life the way two different disciplines —yoga and dance —shed light on our understanding of emotions. It presents a blend of both art forms to illuminate not only emotions themselves and the power they embody, but how they can be harmonized in the human heart. The authors are leading lights in their separate fields, and each brings a lifetime's wisdom and study to the subject.
–John McLaughlin, Founder of the East-West fusion group, Shakti
Finding harmony in a life full of struggle: This book leads through this subject, and can help us learn to understand and deal with emotions better —
* re-understanding the word "emotions"
* building awareness for the disturbances of the mind
* discovering the essential emotions and not getting lost in fleeting emotions
* cultivating the essential emotions
"Anjali" Angelika Sriram graduated in Dramatic Arts in Stuttgart, Germany, studied in Chennai at Kalakshetra, with The Dhananjayans and with Muthuswamy Pillai. She has performed extensively in India and Germany and published a book on Bharatanatyam as well as three novels in German.
R. Sriram trained with the renowned Yoga-Master and teacher of teachers T.K.V. Desikachar and taught initially at the Krishnamacharya Yoga Mandiram. He has been an active student of Yoga for over 40 years and teaches yoga today to Yoga teachers in India, Germany and the UK.
The couple run the rewilding project Base Art Nature Yoga near Kodaikanal.