---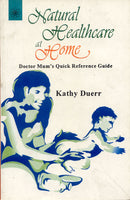 Natural Healthcare at Home is a must for any home with small children. In our modern-day, quick-fix world we have come to rely heavily on antibiotics and chemical drugs which can suppress the immune system and subject our children to short-term side-effects and long-term consequences. We have
forgotten just how effective and reliable are the common, natural remedies used by generations before us. The book offers the tried and tested physician-endorsed natural remedies for treating minor illnesses without having to resort to chemical drugs.
Review(s)
"The book is useful for the housewife and the health conscious who want to avoid or believe in the minimum use of modern drugs for common ailments." - NATIONAL HERALD
About the Author(s)
KATHY DUERR is a gardener, florist, herbalist, energy worker and a lay homeopath.