---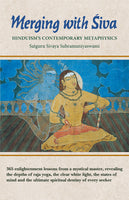 For fifty years Satguru Sivaya Subramuniyaswami exemplified and taught the profound truths of yoga and Sanatana Dharma, guiding seekers to live fruitful spiritual lives and realize the Self within. Here he explores such questions as:

Can we experience Siva personally? What is the path to Self Realization?
Do aura colors have meaning? What are the 21 chakras and the kundalini?
How can I find the clear white light in meditation? What is karma?
How are the sexual energies transmuted? What are the five states of mind?
Merging with Siva is all about "the inside of you."  It is piercing, relevant and magical in its power to change your life by changing the way you look at your self and your purpose on Earth.  It is the masterful work of an illumined satguru who spearheaded a global Hindu renaissance and founded a monastic order in Hawaii to carry on his lineage.