---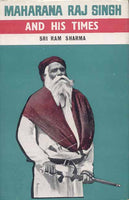 Maharana Raj Singh became the ruler of Mewar at a very critical juncture in its history. As soon as the ascended the throne, Shah Jahan sent the largest Mughal force that had ever ventured into Mewar. Then followed the last sack of Chitor. Raj Singh however soon had his revenge. When Aurangzed rebelled against his father he sought Raj Singh's support and offered ot restore what Raj Singh had lost earlier. The Maharana spun out the negotiations till Aurangzeb had finally defeated his father.
About the Author:
Dr. S. R. Sharma was an eminent historian and an equally eminent teacher. He wrote many scholarly books, monographs and tracts, mostly related to the life and conditions of people in medieval times.
He was Professor of History at the DAV College, Lahore, for several years. For some time he also taught at Panjab University, Lahore. After 1947, he was associated with a scholarly institute devoted to the study of social sciences at Una, Himachal Pradesh.