---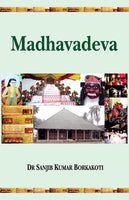 Sale
About the Book: 
Madhavadeva was a stalwart of the Eka Sarana Nāma Dharma order founded by Srimanta Sankaradeva, whom he succeeded. He gave enormous support to his preceptor and authored a lot of devotional literature. Like his preceptor, Madhavadeva too created many songs, dances, and plays based on devotion to Lord Krishna. He created some Rāgas also. He authored the holy scripture Nāmghoshā. Vinoba Bhave was so impressed by this scripture that he authored a book titled Nāmghoshā Sār (Essence of Nāmghoshā). This biography by Dr Sanjib Kumar Borkakoti covers the entire life story of this genius from birth to death. 
About the Author: 
DR SANJIB KUMAR BORKAKOTI has authored books on education, culture, development issues, literary criticism, philosophy etc. He has authored biography of medieval polymath Srimanta Sankaradeva and translated his works to English. He has analysed Srimanta Sankaradeva's philosophy too and also given a name to it.

Dr Borkakoti received Vaishnavite Literature Award in 2008 and Sankari Sahitya Sanskriti Bota in 2021. He is the President of Society for Srimanta Sankaradeva. He is an expert member of International Committee on Intangible Cultural Heritage. He is also a reviewer of world heritage nominations to UNESCO.