---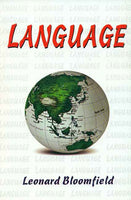 Sale
The book presents the fundamentals of Linguistics and the historical survey of languages to the reader without any complication and obscurity. It is a valuable book for students and scholars of linguistics.
The author has followed the traditional order of presentation. He begins with the survey of languages of the world, proceeds with the study of phonetic structure, grammatical forms, syntax and morphology, each being the indispensable preliminary to the study of the ensuing one.
The book is divided into 38 chapters which gives a detailed and thorough knowledge of the subject on all important issues, such as analogic and semantic changes, cultural, intimate and dialect borrowings and scores of other points related to the subjects. Of these Chapter 24 Semantic Change, and Chapter 25 Cultural Borrowings are much palatable. It is in these chapters that the reader can get right away from the mechanics of language and follow the play of human mind.
The book is documented with notes, bibliography, table of phonetic symbols and index.
Review(s)
A work of amazing erudition, by a writer who seems equally at home in primitive Chinese, pre-Irish, Samoan, Sumerian and Tagolog. It will be regarded as an indispensable aid to all students of comparative philology. - New Statesman