---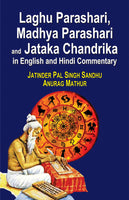 Sale
This book is an attempt to explore and understand the classic in the simplest of forms, it will definitely help all who want to delve into classic yet find it difficult to remember and understand. The author have made an attempt to help you understand the fundamentals and principles as given in the classic Laghu Parashari, Madhya Parashari, and Jataka Chandrika. in English and Hindi Commentary. You will find the translation and explanation of the dictums are both in English and Hindi therefore it's a must-have book for all enthusiasts, seekers, learner of astrology, and astrologers.
About the Author(s)
Jatinder Pal Singh Sandh, is a Author, Blogger, Researcher, Astrologer and teacher of Vedic/medical astrology with more than 5000 blog/article's on various astrological forums like Speaking Tree, India Divine, Mystic Boards,Astrology Tree, Light on Vedic Astrology, etc. He is actively involved in research in Vedic and Medical astrology, his work has been published in almost all known journals of astrology of international repute like Research journal of astrology, Express star teller, and Modern astrology ( Run by Daughter of Dr. B.V. Raman ), Times of astrology, Planets, and forecast. He has four published books to his credit two in Medical astrology and two in Vedic astrology. HIs books have been well received and acclaimed publicly. 
His blogs have an International fan following. 
He is a hall of fame astrologer on AstroSage for having won all quizzers based out on medical astrology. 
He is regarded as one of the best in the field of Medical Astrology. 
Anurag Mathur, is a Vedic astrologer and researcher of Vedic astrology, his passion, and zest for classical Vedic astrology are immense. Anurag Mathur is a nonprofessional yet an astrology aficionado.