---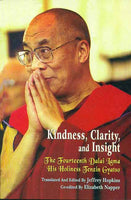 In this collection of talks given by the Dalai Lama during his tour of North America, His Holiness discusses a wide variety of spiritual and human concerns with his characteristic warmth, wit and perception.
Not limited to Buddhists or to religious believers, the Dalai Lama's direct, practical message speaks to people everywhere of the importance of kindness, love and compassion. Appealing both to the mind and to the heart, he urges all humanity to consider the delicacy of the current world situation and to work at reshaping attitudes for a better society. His message of hope celebrates the indomitable human spirit and affirms the everpresent potential for individual and social transformation.
In the later chapters the Dalai Lama elucidates with insight and profundity various topics of Buddhist doctrines. A concluding discourse explains the basic meeting points of thought between the old and new schools in Tibet-especially the Nying-ma and Ge-luk-to show their common aim, despite their use of different techniques, to manifest the innate mind of clear light.
Review(s)
About the Author(s)
Jeffrey Hopkins is Professor of Tibetan and Buddhist Studies at the University of Virginia. His more than twenty-five books include Emptiness in the Mind-Only School of Buddhism (California, 1999), Cultivating Compassion (2001), and, as, translator-editor, His Holiness the Dalai Lama's How to Practice (2002) and The Meaning of Life (2000).