---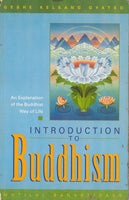 About The Book:
Who was Buddha?
The nature of our mind
Past and future lives
Karma
Why and how to meditate
What is liberation?
The path to enlightenment

These and many other themes are illuminated in this compelling introduction to the life and teachings of Buddha. Beginning with themain events of Buddha's life story, Geshe Kelsang then introduces thecentral principles behind the Buddhist way of life.