---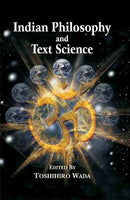 The present book aims at clarifying various aspects of Indian philosophy by applying concepts used in text science towards their analysis. Text science attempts to establish universal rules which apply to all forms of human expression. If we regard all human expression, 'including behavior', as communication, it contains a meaning-system whether it has the form of language or not. Human expression may be classified as language, figure, body action, and so forth; we consider all these forms of expression to be texts, for which there must apply universal rules. The aim of text science is to explain how these rules function throughout various types of texts and thus provide a better understanding of human behavior.
Here the direction of analysis is from context to text. It is also possible to move from text. It is also possible to move from text to context. We can arrive at a new context from texts such as commentaries, which context cannot be discovered through reading only one of those texts. Such a context will certainly help us coherently interpret other texts related to the texts. The concept of context and these two directions of analysis may not be necessarily new tools to scholars of Indian studies, who often adopt this method unconsciously. However, we aim to to use this method consciously here. It is an underlying principle of this book that in order to understand texts, written in Sanskrit or other languages, we need to turn our attention towards factors outside of them, such as information provided by other areas of study, which factors we call context.
All the contributors of this book have made particular use of this concept in their analysis. Nine papers have been organized into four parts: (1) General (2) Buddhism (3) Vedanta, Mimamsa and Vyakarana and (4) Nyaya and Vaisesika.
Review(s)
About the Author(s)