---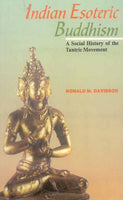 Despite the rapid spread of Buddhism the historical origins of Buddhsit thought and practice remain obscure.This work describes the genesis of the Tantric movement and in some ways an example of the feudalization of Indian society. Drawing on primary documents from sanskrit, prakrit, tibetan, Bengali, and chinese author shows how changes in medieval Indian society, including economic and patronage crises, a decline in women's participation and the formation of large monastic orders led to the rise of the esoteric tradition in India.
Review:
"An exceptional work of stunning research, eloquence and unusual innovativeness." David, Germano, university of Virginia --David, Germano, university of Virginia
About the Author:
Ronald M. Davidson is professor of religious studies and director of the program in Asian studies at Fairfield University in Connecticut. He is the co-author (with Steven D. Goodman) of Tibetan Buddhism: Reason and Revelation.