---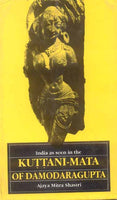 The Kuttani-mata of Damodaragupta is one of the few works in the history of classical Sanskrit literature the time and locale of the composition whereof can be ascertained with a fair degree of certainty. We learn from Kalhana that Damodaragupta occupied a high position under the Karkota-Naga
king Jayapida Vinayaditya who ruled over Kashmir in the closing years of the eighth and early years of the ninth centuries A.D. A critical study of the internal evidence indicates that the work was probably composed a few years after the close of Jayapida's reign.
As indicated by the title, the text aims at exposing the secrets of the whole craft of prostitution in the form of the advice of an experienced bawd (Kuttani) to a courtesan, and from this point of view it occupies a unique place in the whole range of Sanskrit literature; for the account is
based not only on the standard erotic texts like Vatsyayana's Kama-sutra but draws copiously upon the poet's personal observation of the actual state of affairs obtaining in post-Jayapida Kashmir. But the poem has a much wider scope than its professed theme and covers the entire gamut of contemporary life of Kashmir in particular and northern India in general in all its varied aspects and as such forms an important source for the study of contemporary Indian society. The present work attempts a critical evaluation of this evidence in the light of relevant literary and archaeological data. In the process new light is thrown on several important questions.
Review(s)
About the Author(s)
Ajay Mitra Shastri has a brilliant academic career. Dr.Shastri has been
associated with several learned societies in various capacities. He is at
present functioning as Editor of the Journal of the Numismatic Society of
India and the Studies in Indian Epigraphy (Journal of the Epigraphical
Society of India). In the capacity of the Convener of the Inscriptions of
India Committee of the Indian Council of Historical Research he is
coordinating the multi-volume inscriptiions programme of the Council.