---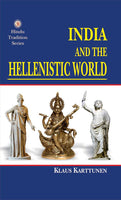 Sale
The author has planned Graeco-Indian relations throughout their history in three volumes. According to this India in Early Greek Literature is the first volume and present volume, India and the Hellenistic World is second, while third volume is India and the Roman West . In the first volume the author has discussed the Greek accounts of India and the relations between India and Greece until Alexander's Indian campaign. Later authors, like Megasthenes, were mentioned only when their information was relevant for this purpose. In present volume focus is on the Hellenistic period in the narrow sense of the word, from Alexander to the rise of Roman Imperial hegemony.

The main object is to collect, explain and discuss the relevant passage in Greek and Latin literature in their relation to Greek and Roman society and literary traditions as well as to then existing information about India and other Asian countries, in some cases Africa too. The methods are philological, but author has also made an earnest attempt to find out and utilise the new evidence offered by such disciplines as archaeology, epigraphy and numismatics.
About the Author:
KLAUS KARTTUNEN (born 12th February, 1951) is the Professor of South Asian and Indo-European Studies at the University of Helsinki, Finland. He has specialised in the relations between the Indian subcontinent and the western world, particularly the classical antiquity of the Greek and Roman sources. Another major interest of Karttunen is the history of Indology and of Oriental Studies at large he has already published in Finnish a major book on the latter subject and is preparing a bio-bibliography of deceased Indologists. Karttunen has taken part in Parpola s Samavedic research program and is preparing an edition of a Jaiminisamaprayoga, a medieval handbook of domestic rituals in Sanskrit belonging to the Tamil Jaiminiiya school. His publications include, Short Sanskrit Grammar (1984), India in Early Greek Literature (1989), Humor in Ancient India: Three Playlet (2000), Vidyavavandanam: Essays in Honour of Asko Parpola (edited with Asko Parpola, 2001), Rigveda : Ancient Indian Selection of Hymns (2003), and History of Indological Studies (edited volume of 12th WSC papers, MLBD, 2015).