---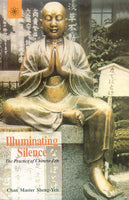 A thought provoking introduction to Chan (Chinese Zen) through the
teachings of the influential Master Sheng Yen. This is a rare opportunity
to gain an insight into the practice of a Chinese Zen retreat and the ideas
behind it.
Part One of the book provides a full introductory account with extensive
teachings, based on the words of the ancients.
Part Two delves deeply into the little known practice of "Silent
Illumination" which lies at the heart of Chinese Buddhism.
The author explains the poetry and teachings of the great Master Hongzhi.
Review(s)
About the Author(s)