---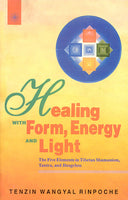 Healing with Form, Energy and Light offers the reader healing meditations and yogic practices on each of these levels.
Tenzin Rinpoche's purpose in this book is to strengthen our connection to the sacred aspect of the natural world and to present a guide that explains why certain practices are necessary and in what situations they are effective. This is a manual for replacing an anxious, narrow, uncomfortable
identity with one that is expansive, peaceful, and capable. And the world, too, is transformed from dead matter and blind processes into a sacred landscape filled with an infinite variety of living forces and beings.
Review(s)
"This book is a thrilling view of the intersection of Eastern wisdom, spirituality, and healing. The majestic perspective embbodied in these pages reminds us our connection with the spiritual world, without which genuine health is impossible." - Larry Do
About the Author(s)
TENZIN WANGYAL RINPOCHE is the founder and director of The Ligmincha Institute, an organization dedicated to the study and practice of the teachings of the Bon tradition in Charlottesville, virginia. He has also authored The Tibetan Yogas of Dream and Sleep.