---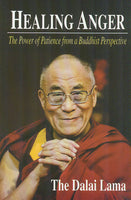 In this book the Dalai Lama shows how through the practice of patience and tolerance we can overcome the obstacles of anger and hatred. He bases his discussion on A Guide to the Bodhisattva's Way of Life, the classic work on the activities of Bodhisattva's-those who aspire to attain full enlightenment in order to benefit all beings.
The techniques and methods presented are relevant not only for Buddhist practitioners but for all who seek to improve themselves. Through these teachings and by his own example, the Dalai Lama shows the power that patience and tolerance have to heal anger and to generate peace in the
world.
Review(s)
About the Author(s)
His Holiness the Dalai Lama is the exiled spiritual leader of the tibetan people.He was awarded the Nobel Peace Prize in 1989.He is the author of many books on Buddhism including Transforming the Mind,The Art of Living,The Art of Happiness And A Simple Path.