---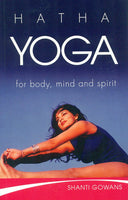 The purpose of this book is to provide young people (of all ages!) with some simple guidelines, for the practice of Hatha Yoga. Interested people are encouraged to explore its practices and potential, to meet their own individual needs and aspirations in their daily life.
Hatha Yoga has the power to develop the full potential of body, mind and spirit in pursuit of your own unique purpose in life here on planet Earth. Committed, concentrated and consistent practise will open up the universal energy, intelligence and inspiration that is inherent in everyone. You are a being with unlimited potential. Yoga offers a path for unlocking and expressing this potential in the present moment, in your daily life.
This book begins with a holistic understanding of yoga, giving an introduction to its path and continues with principles and routines for its successful practise. It then offers guidance about some core postures of Hatha Yoga, and concludes with information for those who may to understand and explore yoga at a deeper level.