---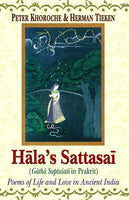 An elegant translation of the Sattasai (or Seven Hundred), India's earliest collection of lyric poetry, this book deals with love in its many aspects. Mostly narrated by women, the poems reveal the world of local Indian village life sometime between the third and fifth centuries. The Sattasai offers a more realistic counterpart to that notorious theoretical treatise on love, the Kamasutra, which presents a cosmopolitan and calculating milieu. Translators Peter Khoroche and Herman Tieken introduce the main features of the work in its own language and time. For modern readers, these short, self-contained poems are a treat: the sentiments they depict remain affecting and contemporary while providing a window into a world long past.
Review(s)
These self-contained couplets are as sexy as they are tender; they are lively and playful, melancholy and haunting, often very funny, and continually startling. - Lee Siegel, author of Love in a Dead Language
About the Author:
Peter Khoroche is a former lecturer in Sanskrit at the Univ. of London and has previously translated Arya Sura's Jatakamala.