---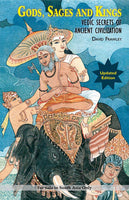 Sale
About the Book: 
GODS, SAGES AND KINGS presents a remarkable accumulation of evidence pointing to the existence of a common spiritual culture in the ancient world from which present civilization may be more of a decline than an advance. The book is based upon new interpretation of the ancient Vedic teachings of India, and brings out many new insights from this unique source often neglected and misinterpreted in the West. In addition, it discusses recent archaeological discoveries in India whose implications are now only beginning to emerge. 
GODS, SAGES AND KINGS reveals the geography of the ancient Vedic world, including the sacred Himalayan lands of the Soma. It shows the lineages of the Vedic kings and the realms that they ruled. It deciphers the ancient Vedic calendar and its sophisticated system of astronomy going back to before 4000 BC. It uncovers the yogic practices of the ancient Vedic seers that appear to be behind all the religions of the world. it suggests that all the peoples of the ancient world may be related to the Vedic culture including those of Sumeria, Egypt, China, and the Americans. The book challenges the accepted views of the origins of civilization in a profound way and thus causes the reader to re-examine what it means to be a human being.
About the Author: 
DAVID FRAWLEY is one of the few westerners ever recognized in India as a Vedacharya or teacher of the ancient wisdom. His work in this book reflects this tradition and his contact with numerous Vedic scholars. It is one in a series of books by him on the different fields of Vedic knowledge, including Ayurveda, Vedic astrology and Vedic yoga.
Did all of civilization evolve from one ancient spiritual culture prior to what we regard as the beginning of history? Were the seers and sages, reputed to have founded most ancient cultures, purely mythical or did they relate to a common spiritual homeland or heritage for all humanity? Are there historical and archaeological evidences for such a culture that have been ignored or misinterpreted?
Review: 
"Gods, Sages and Kings is a very important book. it fills a major void in our understanding of human history... it calls into question our entire view of human history... it is much more significantly a truly spiritual vision of where we come from and who we are." ---Vyas Houston