---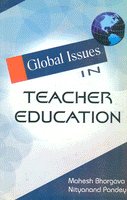 With the emergence of globalization, the teacher education is also affected with many burning issues which should be taken as a challenge so dream of quality and meaning for teacher education may be fulfilled. In view of this objective, this book contains 30 very useful, informative and analytical chapters on various issues, some of them are guidance needs, student counselling, innovative assessment practice, gender disparity , informal and distant education, value crises and resolving social issues, cognitive neuroscience , emotional intelligence, habits of mind, internationalization, coping skills, psychological consequences of technology, total quality management, better psychological lab management, skills development etc. by a number of psychologists, educationists and planners of the country. We hope this book will be useful treatise for every one who is concerned with teacher education.
About the Author(s)
Dr. Mahesh Bhargava,( born 15th Feb. 1947) M.A.(Psy,) M.Ed. and Ph.D. is National President, Praachi Psycho- cultural Research Association, Meerut ; President, Indian Psychometric and Educational Research, Patna, Patron, Psycholinguistic Association of India, Agra ; Chairman, Harprasad Institute of Behavioural Studies, Agara ; Director, National Psychological Corporation ( largest organization of developing Psychological Tests), Agra ; Vice President, Society for community Mobilization for Sustained Development, New Delhi ; Hony, Director, Samadhan Kendra, Agra. He had been the Recorder and President, section of Anthropological and Behavioural Sciences of Indian Science Congress Association, Kolkata ; Treasurer and secretary of Indian Psychological Association, New Delhi and Psycho-linguistic Association of India, Raipur for many years and the Executive Member of a dozen of Professional Associations. Still he is associated as life member of about 50 professional organizations. He is the Editor of 'Psycholingua ; Joint Editor of IJPE and consulting editor of eight reputed Journals of the country.
Prof. Nityanand  V. Pandey  is a well known scholar of National and International repute in the discipline of Teacher and Community Education. Besides his post-graduate degrees in Psychology , Education and Hindi, he has been awarded Ph.D. Degrees in Education and has undergone for certificate level course in 'Young Leadership and Training' , at National Center for Community Education Flint, Michigan USA. He has devoted nearly three decades of his life in teaching and research as Lecturer, Reader, Officiating Principal, Professor and Director. His administrative ability has been widely recognized by all concerned, as Head, Dean and Director of an autonomous institute under MHRD, GOI. His academic visits to some important foreign universities, viz ., University of Michigan (USA), University of Akita (Japan), University of Oxford (U.K)University of British Columbia (Canada), University of Tribhuvan ( Nepal) and University of West Indies (Trinidad and Tobago) have provided him opportunities to "learn' and 'Contribute' more in  every sphere of life.