---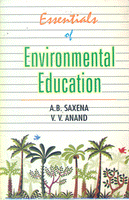 This is a resource book for persons who are interested in environmental education (EE), be it a teacher who has to teach EE, teacher educator who trains teachers in the area of EE or a student who is keen to know about environment, its various components, their manual interaction and how the quality of the environment could be assessed and improved. The bool is divided into two parts. The first part deals with the origin, history and nature of EE. It also discusses the methods of teaching and integration of EE with the existing curriculum. The second part deals with the knowledge that is required to study the quality to environment and elaborates on the related skills that are necessary to deal with environmental problems. Thus the book is complete in itself providing basic knowledge about Environmental Education.
About the Author:
A. B. Saxena   After obtaining doctorate degree in High Energy Physics from Allahabad University, in 1972, he joined NCERT, as teacher at Regional college of Education, Bhopal. Since then he served in various capacities and such as Resource Person for Unesco, Principal, Regional Institute of Education, Ajmer and Dean Faculty of Education, Maharishi Dayanand University, Ajmer. At present he is working as Principal, Regional Institute of Education, Bhopal.
During his long career,  he has obtained training at University of  Leeds, Leeds, U. K. has published large number of books that include Education for the Environmental Concerns : Implications and Practices, Environmental Education, Understanding learning Physics, and (Co-authored). He has more than 125 research papers and articles in various international and national journals, magazines, newspapers and periodicals. He is also recipient of Shiksha Puraskar from Central Hindi Directorate (MHRD) on his book  Paryavaran Shiksha.
 V. V. ANAND is employed with the NCERT, and has worked in the Regional Institutes of Education at Ajmer and Mysore. He is currently working as Reader in Botany at the Regional Institute of Education, Mysore. He obtained his post-graduate and doctoral degree in Botany from the University of Mysore, Mysore, Karnataka. He has several publication in the area of Angiosperm Embryology and plant issue culture. He has been closely associated with textbook writing at the British Council TCT award for participating in the environmental education program in the United Kingdom.