---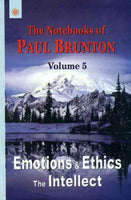 In a Search in Secret Egypt, Paul Brunton wrote briefly of "the street that grows red flowers"-one of seven steps awaiting all who would enter the secret chamber of the heart's mysteries. Emotions and Ethics, Part 1 of this fifth volume in The Notebooks of Paul Brunton, is a detailed guide to this pivotal stage of spiritual development. It shows clearly how to claim one's full humanity through controlling, purifying, and transmuting the flowers of passion inherited from our animal nature.
Part 2, The Intellect, evaluates the thinking faculty. It demonstrates the transformative potential, and the limitations, of intellectual understanding in spiritual practice.
Review(s)
"The question is whether...to accept the baser weaknesses as human or...to struggle against them as unworthy of a human being. Unsound theoretical principles can never lead to sound practical deeds. A small mentality can only mangle a large truth.- Paul
About the Author(s)
Paul Brunton was one of the twentieth century's greatest explorers of the spiritual tradition of the East. He was also a journalist with a healthy regard for critical impartiality and for commonsense. These characteristics together with a rich inner life, made him a superb writer on the spirituality of the Orient.