---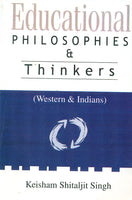 Educational Philosophies and Thinkers (Western and Indian) is basically a book that caters to the interest of the readers in the field of educational philosophy. The book is comprehensive study and has been prepared keeping in view of the syllabi of 10+2+3, B.A. (Education), M.A. (Education), B.Ed., M.Phil. (Education) of various boards, councils and universities of our country. The book betrays the fact that it is the study of thoughts by which men live and the society is animated. People determine all their thoughts. The present study is an attempt in this direction unfolding the vast vista of educational philosophy and even that which has been inherited from our ancient  thinkers.
The book is divided into five parts. The part A is Introduction-"Philosophical Foundations of Education" deals with the meaning of philosophy, education, their relationship and different schools of philosophy. Part B is dealing with various western philosophies like Idealism, Naturalism, Pragmatism, Realism and Existentialism. Part C is concerned with great western educational thinkers like plato, Aristotle, Russell, Pestalozzi, Dewey etc Part D is dealing the main tenats of various educational Indian Philosophies like Sankhya, Yoga, Gita, Buddhism etc. and the part E is concerned with the eductional contributors of Indian thinkers like Ram Mohan Roy, Tilak, Tagore, Vivekanand etc. The book has been written in a simple language and would prove highly useful for the readers. Biblographgy and references may help the scholars in their deeper studies.
About the Author(s)
Dr. Keisham Shitaljit Singh, Assistant Professor Department of Education, Manipur University is a teacher with a brilliant academic career. He has obtained his M.A. Ph.D. degree from the Kurukshetra University. 
Dr. Shitaljit has been teaching Educational Administration and Supervision, Philosophy of Education, Economics of Education, Comparative Education, Statistics and Research Methodology to the Post Graduate classes in Education since 2002 in the Department of Education, Manipur University. He has Published several research papers in reputed Journals of Education and Psychology in India and the prestigious edited books. Not only these, he wrote different articles relating the present problems and prospects of the system of education in the state of Manipur in the Manipur local news papers in educational column. Recently his two books on education are published-'Moderators of Leadership Behaviour Among Principals' and 'Educational Philosophies and Thinkers (Western & Indian) by two leading publishing house of Agra (U.P.)
Dr.Shitaljit has been conferred the IPERA -Prof. M.A. Hakim Award of " Best Educational Psychologist" by Indian Psychometric and Educational Research Association, Patna in the Year 2009 and in the same year , he was also awarded "Rashtriya Vidya Saraswati Puraskar" by the International Institute of Education and Management, New Delhi. At present, he is also working as a Project Investigator of the UGC major research project and as a Ph.D. supervisor.