---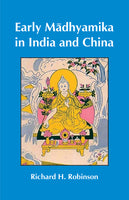 About the Book:
Essentially a study in the intercultural transmission of religious and philosophical ideas, this book focuses on the introduction of Indian Madhyamika Buddhism into China. At this time, about A.D. 400, the Chinese Buddhist intellectuals were conducting an intense inquiry into philosophical problems. Although many Buddhist scriptures in Chinese translation were available, translations of the four Madhyamika treatises by the Indian Buddhist teacher Kumarajiva were read by the Chinese scholars with excitement and a sense of discovery.
Among these scholars there were varied reactions to the new ideas, and Professor Robinson explains the intellectual reasons why certain Indian ideas were understood, others misunderstood, and still others ignored. Information about this initial impact of Madhyamika in China, afforded by surviving essays, prefaces, letters, and commentaries, is presented. Professor Robinson employs logical, philological, and philosophical analysis as components of an integral methodology more sophisticated than any hitherto applied to the Madhyamika school. In his careful examination of these writings by Kumarajiva and three of his Chinese contemporaries, Hui-Yuan, Seng-Jui, and Seng-Chao, each writer's literary form, modes of reasoning, and ideas are analyzed, described, and compared.
In a rigorous, descriptive analysis of specific Madhyamika texts, Professor Robinson elicits the testimony of the texts themselves, distinguishing it carefully from his interpretive apparatus. A substantial appendix provides English translations of selected documents and the Prefaces to the Four Treatises: the Abridged Great Perfection of Wisdom Treatise, the Middle Treatise, the Twelve Topic Treatise, and the Hundred Treatise.
Richard H. Robinson is Professor in the Department of Indian Studies at the University of Wisconsin. He served as Secretary of the American Institute of Indian Studies from 1963 to 1965. Professor Robinson has published several articles on Buddhism and is the author of Chinese Buddhist Verse (1954). He initiated in 1961 and is currently in charge of Wisconsin's Ph.D. program in Buddhist Studies, the first of its kind in America.