---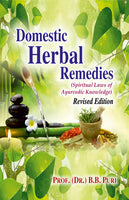 About the Book:
A complete Encyclopedia on how to maintain a healthy and long life.

Ayurveda is gaining prominence as the natural system of holistic healthcare all over the world.  India enjoys the privilege of having time-tested traditional systems of medicines based on natural products.
The author highlights the basic principles and the practical applications of Domestic Herbal Remedies which are highly commendable.  The reader will find that the presentation is the result of an in-depth study of varied aspects of the subject depicting originality with clarity.
About the Author:
Prof. Dr. B.B. Puri, Ph.D, Arch.,D.Sc, D.Litt, M,B,H,B, (RMP) AMICE, USA a veteran from India has a multifaceted personality being a senior practicing Architect, Research Scholar, a Vastu Expert and a distinguished author having written over 50 inspiring books on spiritual and personal growth. His books are a manifestation of his wisdom that he has acquired over the years and selflessly shared with the world.
Prof. Puri has been associated with numerous professional organiz-ations that have contributed to his versatility and depth of character, hence considered a guru, second to none by his disciples. His creative ability and writing prowess has earned him many accolades from the Hon' President and Prime Minister of not only our country but other nations too and several other eminent personalities.