---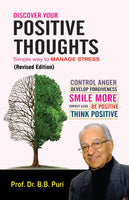 Sale
The Author has given simple ways and techniques for living a  happy physical, and stress-free life. To get rid of negativity the book explains how to have positive thoughts. It also talks about managing health, happiness, anger and stress.
Following the author's advice will lead mankind to inner happiness and advises how to manage your stress, by simple methods and convincing explanation that mental health is as important as physical health. By that nature man and their combined products are governed by an evolutionary network guided by performance standard. This book also gives very traditional tips as how to manage your anger and develop your success. The book is recommended to all age group.
About the Author:
PROF. DR. B.B. PURI, Ph.D, Arch., D.Sc, D.Litt, M,B,H,B, (RMP) AMICE, USA a veteran from, India has a multifaceted personality being a Sr. practicing Architect, research scholar, a Vastu Expert and a distinguished author having written over 50 inspiring books on spiritual and personal growth. His books are a manifestation of his wisdom that he has acquired over the years and selflessly shared with the world.
Prof. Puri has been associated with numerous professional organizations that have contributed to his versatility and depth of character, hence considered a guru, second to none by his disciples. His creative ability and writing prowess has earned him many accolades from the Hon' Presidents and Prime Ministers of not only of our country but other nations and several other eminent personalities.