---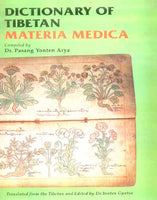 Dictionary of Tibetan Materia Medica is the first diictionary of its kind.
All the entries are arranged in Tibetan alphabetical order which will
enablethe readers to find the names of medicinal ingredients easily. In
this English version the translator and editor, Dr. Yonten Gyatso, has
given Latin names of almost all the medicines. Most of the materials are
compliled from Sel gon sel phrem, the most famous text on Tibetan
pharmacopoeia, and from Rin chen khruns dpe, one of the oldest and most
reliable texts. Therefore, for the non-Tibetan readers this dictionary
presents materials from the above texts which are translated for the first
time into English. This dictionary, with its many special features, will be
of immense use and value for students, research scholars, doctors and
pharmacologists of Tibetan medicine, and for ethno-botanists.
Review(s)
About the Author(s)
DR. PASANG YONTEN ARYA is lecturer in Tibetan medicine at the Central
Institute of Buddhist Philosophy in Ladakh. He founded a study group for
Tibetan medicine and Yuthok Institute of Tibetan Medicine in Italy. He has
written many articles and books on Tibetan medicine and astrology in
Tibetan, English and Italian.