---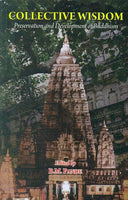 This book is the first in a series of volumes of the proceedings of the Global Buddhist Congregation (GBC) that took place in November 2011 in New Delhi. This was one of the largest Buddhist gatherings ever to take place on Indian soil and was timed to commemorate 2,600 years of Sambodhiprapti-the enlightened awakening of the lord Buddha.
The delegates of the GBC adopted a resolution for the formation of a global Buddhist umbrella body; the International Buddhist Confederation (IBC) under the motto "Collective Wisdom, United Voice". The IBC is a membership organization that focuses on the common ground that all Buddhists share, while respecting the rich diversity of Buddhist traditions and practices. Bodh the GBC and IBC initiative were convened by Asoka Mission, a Buddhist centre in New Delhi headed by Ven Lama Lobzang. He has held various public offices including being the founder and longest serving member of the National Commission for Scheduled Castes and Scheduled Tribes. He also runs Asoka Mission Medi-Care Initiative providing critical medical treatment to people from the remote Himalayan regions of India and Nepal.
The book includes message from His Holiness the XIVth Dalai Lama delievered as valedictory
address. It also contains papers from scholars like ASHIN NYANISSARA (Different Rivers, Same Water), SOGYAL RINPOCHE ( 21st Century Buddhism : A Global Force for Good), GESHE LHAKDOR (Buddhism in a Changing Society), GESHE TENZIN ZOPA (Challenges and Solutions to the Preservation of Buddhism), JACK PETRANKER (The Voice of the Dharma and the Future of Buddhism), LAMA SURYA DAS (Buddhism in the West and its Encounter and Modernity), JOSE I.
CABEZON (The Principles of Political Ethics preserved in Tibetan Language Sources), ALLEXANDER BERZIN (The Journey of Buddhism), KATIA BUFFETRILLE (Tibetan Pilgrims and Pilgrimages in the PeopleÍs Republic of China), and VESNA A. WALLACE (Buddhism Laws in Mongolia).
Review(s)
About the Author(s)
B. M. Pande spent over thirty-five years working with the Archaeological Survey of India and he is presently the visiting faculty in the School of Planning and Architecture, New Delhi. He was nominated by the Government of India as a member of the Central Advisory Board of Archaeology. He actively participated in excavations in over a dozen sites and directed major excavations and conservation works. He is a member of numerous professional and academic bodies, including Fellow of the Royal Asiatic Society, London.
He is the author of numerous articles and publications in research journals in India and abroad. His publications include Symbols and Graphic Representations in Indian Inscriptions (jointly with H. Sarkar), Archaeology and History Essays in Memory of Shri A. Ghosh, in two Vols. (edited jointly with B.D.Chattopadhyaya) and Ecology and Archaeology of Western India (edited along with D. P. Agarwal), etc. He was awarded with Shankar Puraskar by K. K. Birla Foundation in 1996 for his book Purattattva Prasanga. His latest book is Qutb-Minar and its monuments.